Professionally applied Denny McKeown Lawn Programs (Serviced by Royse Lawn Care)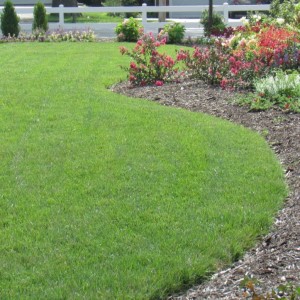 "Lawn Care at it's Finest" 
(Program is based on principals established by The Ohio State University). 
For a lawn analysis and estimate for professionally applied programs, call 513-984-8733.
"I've represented several lawn services for way more than a decade who promised they would treat lawns according to standards set by Ohio State University extension. All those companies +others insisted on doing the wrong thing by making too many visits and then putting down more fertilizer than your lawn needs to stay healthy. …. Denny McKeown
That's why Denny McKeown Inc. and Lloyd Royse owner of Royse Lawncare have put together lawn programs designed to provide the right amount of fertilizer and your lawn will only be fed when it should be. The programs also include other features such as Prodiamine (a pre-emergent weed seed control) and also includes a post emergent broad leaf weed control."
There are 2 programs to choose from:
1.  The "Denny McKeown Basic Program"
This program is just what the name implies. It is the basic foundation of a good lawn care program. This program will provide four applications as listed below.
An application of Prodiamine pre-emergent along with a light feeding. Prodiamine is the best product to use because it provides season long weed control. Most other pre-emergent weed control products being applied by other companies only work for 90 days.
Summer Application:  A single application of post emergent control of weeds.
Two Fall Applications:  Two feedings of quick release high Nitrogen fertilizer at the rate of 1.5 lbs per 1000 square feet. Fall fertilization has been proven to be the most beneficial to the lawn. The benefits of the fall feeding will be seen immediately as well as the following spring.
(The basic program will only include the four applications listed above. This program does not include insect, fungus, or nutgrass control. You have the option to pay for individual service calls to address additional issues. The price of the service call will vary dependent upon the problem. Aeration is also an option available in the fall.)
2.  The "Denny McKeown Best" Program
Our premium program includes all of the necessary applications of fertilizer, insecticide, fungicide, and pre and post emergent herbicides. The combination of these applications will ensure your lawn will look its best throughout the year.
Advantages to using the Denny McKeown Best program
Fertilizer will only be applied when required. The heaviest amount of fertilizer will be applied in the fall as recommended by Ohio State University and The Ohio Turfgrass Foundation.
This is one of the few lawn programs available using Prodiamine as the pre-emergent weed control. Prodiamine is the best product to use because it provides season long weed control. Most other pre-emergent weed control products being applied by other lawn care companies only work for 90 days.
Post emergent control of broadleaf weeds.
Nutgrass control is included.
Grub control and fungicide is included as needed.
We provide free service calls for needs particular to your lawn. Aeration is not included but can be added as an option.
There may be a problem or situation particular to a lawn which can not be solved with this program. These problems will be addressed through the consultation process.
Most of the locally owned lawn care companies have been bought by national companies. It is very difficult to find a lawn care company that is owned and managed by a local resident. The McKeown's and the Royse's are both local residents and Royse Lawn Care is a local company with 30 plus years in the Professional Green Industry and 23 plus years in the Lawn Care Management and has been servicing our programs since 2007 with tremendous results. Results that are much greater than any of the nationally owned lawn care companies.