Landscape Services Easy as 123
Step 1 Landscape Consultation
Professional Landscaping: Call our Landscape Office at 984-TREE (8733) to make an appointment with our Landscape designer. An office assistant will explain the landscape process, gather information for your project and then schedule an appointment. A confirmation letter for your appointment will then be mailed that includes a questionaire that is helpful as a brainstorming tool prior to the appointment to help you gather your thoughts.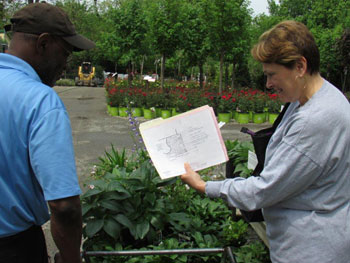 Do-it-yourselfers have two options
In Store Assistance: You are welcome to stop by our store to discuss small projects with one of our store nursery designers. These projects are limited to small projects which you plan to install yourself. To assist the designers you will need to bring as much information about the planting site as you can, pictures are always a big help. Call 984-TREE (8733) for additional information.
On Site Assistance: Call our Landscape office at 984-TREE (8733) to make an appointment with our Do-it-Yourself Landscape designer for small projects. An office assistant will explain the landscape process and will gather information for your project and schedule an appointment.
Step 2 Landscape Installation
Our landscape division is staffed with professionally trained landscape installers who have been with our company for many years. The landscape installers have been commended for thier knowledge of plants and plant care, their neat appearance, for being very polite, helpful and for being very efficient. Our professional landscape installers will ensure the job site is kept clean throughout the landscape project.
Step 3 Landscape Maintenance
After you've made an investment to beautify your landscape, you need to know how to protect your investment. With proper maintenance and the help of our landscape professionals, you can protect and control your landscape environment, ensuring its beauty and vitality for years to come. Denny McKeown's Landscape Maintenance division provides the proper timing of pruning, fertilizing, mulching, and disease and insect control to ensure a healthy landscape. Let our landscape professionals tailor a program to meet your individual needs and protect your investment. Call today for more information regarding a customized landscape maintenance program.
Plants professionally installed by our company are guaranteed for 2 (two) years.